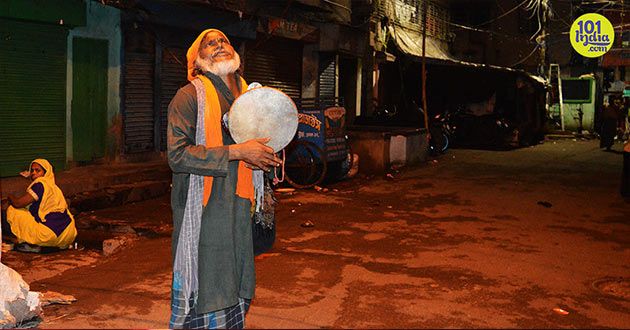 "He earned blessings, not money."
It was a time when Winamp and Limewire were cool. A time without 4G, SoundCloud or YouTube. Entertainment was contingent upon imagination; when I wasn't pouring over my middle school books, I was gazing out the window.
I was a resourceful child: I remember placing cushions on the sill so the channels of the window panes wouldn't hurt my bum as I stared endlessly into the night. It was my first year of knowing what the world feels like at 2 am. Little joys of a little heart.
More From 101 India: Travel & Food
On one such night, I discovered Fakir Chacha. It was the month of Ramadan. Amidst the sounds of shuffling feet, crickets, and a rhythmic snoring competition between my mum and dad, I could hear from afar the rub-a-dub of a drum.
As the sound grew closer, a shrill but powerful voice pierced through the air. Soon, a song emerged from the night's silence. Sorrowful, but beckoning.
He sang the words "Aya ek Banjara, Sab ko jagane, Rab se milane."
Buddhu Baba, a sehri singer
Five years later, I was back home for Ramadan.
I sat in my room, my ears alert, waiting for him to come. He did not.
Someone else did. A different song, with different words and a different tune, but the spirit and the message remained the same. My heart, however, was broken, as I worried about the song man from my childhood.
So I set out to find him.
I embarked upon the quest to find my personal favourite from amongst the Sehri singers of Calcutta.
And I learned things, some of them appalling.
My song man from the night, it transpired, belonged not just to me, but to many. And there were others like him. They are known most commonly as Fakirs and Banjarans to locals, and clubbed together under the category of 'Sehri singers.'
Their vocation — and what a beautiful vocation it is — is to sing from the heart as a service to God and God's people. These singers walk every alley and gulley of Calcutta's Muslim neighborhoods, drumming their dhols and singing Qawwali songs, to wake people up so they can have their Sehri, which is the meal consumed at dawn.
The difference between Banjarans and Fakirs, however, is little known. Banjarans, like the name suggests, are vagabonds, whereas Fakirs have a home.
My Fakir Chacha never came back, it turned out, because he was not a Fakir. He was a Banjara, just as he sang in his song.  The search, however, did not amount to nothing. In fact, it introduced me to two new favorites: Buddhu Baba and Sabir Chacha.
Sabir Chacha singing in the alleys of Calcutta's Muslim neighbourhood
Buddhu Baba and Sabir Chacha (72 and 68 respectively) are two brothers who have been living in the congested lanes of Bandarpatti since birth. Their father, Mohammad Habib, was a Fakir who devoted his life to songs that would help his Muslim brothers and sisters arise from their slumber.
Buddhu said "woh neki kama te the paisa nahi" (he earned blessings not money). Despite being trained in Qawwali singing from a young age, both brothers initially chose not to follow their father's footsteps, but instead worked as laborers in the construction business.
Why the change of heart? When I probed further, Sabir Chacha confessed that since their father was a dutiful Sehri singer, the brothers did not feel the need to join him. Instead, they concentrated on more profitable lines of work. He said, "Lekin unke inteqal ke baad unki riwayati zinda rakhna tha toh hum bhi dhol utha liye" (but after his death we wanted to keep his tradition alive so I picked up the dhol as well).
Buddhu Baba's house (shanty)
Buddhu and Sabir start singing from North Range at around 1:20 a.m. and sing till about 3 in the morning. They've divided the territory in the most judicious way possible. Since Buddhu is the older one, he covers the closer areas of Mehdi Bagan, Ripon Street and Bedford Lane. Chacha, on the other hand, presides over the area between Jannagar Road and Beck Bagan.
What they make in return for their services is paltry. In fact, their compensation isn't always financial. They make whatever people feel like giving. Sometimes it's money, sometimes it's food, and many times it's nothing at all. "Lag bhag sau se do sau toh milta hai Ramazan ke waqt" (I get roughly Rs 100 – 200 during Ramadan), said Buddhu Baba, with a smile so contented that it broke my heart.
A typical day — after singing till 3 in the freaking morning! — consists of waking up at 8AM, setting out for collections for the previous night, then coming back home to care for 8 of their grandchildren while their sons and daughters-in-law are at work. They set out again at 12:30 AM. And all of this while fasting!
Buddhu Baba has been doing this for 40 years, and Sabir Chacha for 30. Throughout the rest of the year, the brothers visit different mazhars of Calcutta, participating in Urus, Qawwalis and Musshaiyaras.
Buddhu Baba and Sabir Chacha's grandchildren
Aside from their wives, both Buddhu and Chacha have two sons each, four daughters-in-law and a total of 12 grandchildren.  This family of 28 lives together in two shanties that are at best 7 feet high. Buddhu and Chacha sleep outside in the lane, on worn out mats. Their faith in God, however, is the exact opposite of their living conditions. Their spirits soar high; their voices soar higher still.
Just 10 years ago, there were as many as 15 other Sehri singers living in Bandarpatti alone. With every passing year, each singer has been replaced by loudspeakers from the mosques. Chacha's son said to me in passing "yeh aakhri hai in mein se, hum toh yeh rawaaj nahi jaari nahi rakh payenge" (he is the last among them, I don't think I will be able to continue his customs). A bitter truth spoken.
I left Bandarpatti with very mixed emotions whirling inside me. I was happy to have met Buddhu and Chacha, but sad to learn how they live, intrigued by their faith, inspired by their ideologies and worried for their future.
As I walked away, I had a vision — of a child, peeking out of a window, many years from now waiting for her Fakir Chacha to come sing for her. But what happened next? I couldn't see that far. The future was uncertain. Only that little girl knows.
Disclaimer: The views expressed in this article are independent views solely of the author(s) expressed in their private capacity and do not in any way represent or reflect the views of 101India.com.
By Suman Quazi
Photographs by: Suman Quazi
Source: https://www.yahoo.com/news/late-nights-with-the-singing-fakirs-of-kolkata-131127839.html