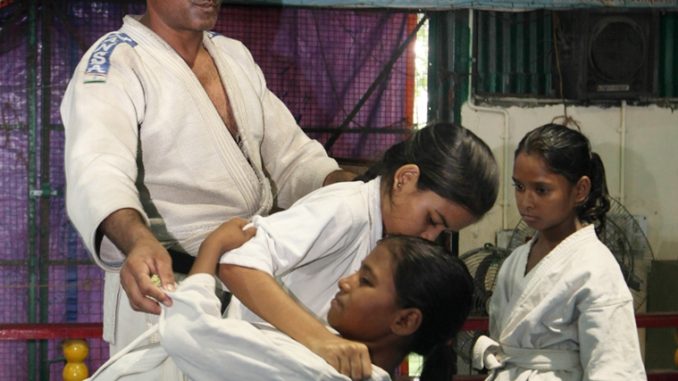 As Avatar Singh, the first Indian judoka to qualify for the Olympics in over a decade, prepares to go to Rio, a look at the country's fascinating introduction to the martial art.
Written by Murali K Menon | Published:July 3, 2016 12:01 am
In 1934, Subimal Ray, Satyajit Ray's youngest uncle, decided that he really had to learn judo, and took his nephew along with him to meet the great sensei Shinzo Takagaki. The duo caught a tram to Takagaki's home in Swinhoe Street, Ballygunge, Calcutta, and apprenticed themselves to the master judoka. In his Childhood Days: A Memoir, Ray writes, "We began our lessons when our costumes were ready… Forty-five years later, I can recall only two intricate holds: sheoi-nage and nippon-shio. Two other gentlemen used to join us on the days we visited Takagaki. One of them was a Bengali and a trainee, like ourselves. The other was an Englishman, an army man called Captain Hughes, who lived in Fort William. He was a light heavyweight boxing champion in Calcutta… He already knew judo. He came to Takagaki simply to practice what he had learnt, for there was no one else in Calcutta to rival him. Their fights were always extraordinary affairs. We used to watch them, spellbound."
To learn that one of the world's greatest filmmakers was, at least in his younger days, a martial arts enthusiast might bring a felicitous smile to one's face — it also explains Feluda's proficiency in judo — but what was this guy, Takagaki, considered to be the father of judo in Asia, doing in Calcutta in the 1930s? The answer to that question is an unlikely one, and you have to be a committed judoka of a certain vintage to be aware of it. Shinzo Takagaki came to Bengal, or, more specifically, Santiniketan, in 1929 on the invitation of Rabindranath Tagore.
"Tagore was a great admirer of Jigoro Kano, the founder of judo. In fact, a jiu-jitsu teacher (judo is derived from jiu-jitsu) Jinnosuke Sano taught students at Santiniketan as far back as 1905," says Cawas Billimoria, a 10-time national champion and Olympian. Billimoria is, at present, mentoring Avatar Singh, who, earlier this month, became the first Indian judoka in over a decade to qualify for the Olympics.
According to John Stevens's The Way of Judo: A Portrait of Jigoro Kano and His Students, the dojo at Santiniketan trained girls and boys together, "something unheard of in India at the time", and one of Takagaki's students was Amita Sen, mother of the economist Amartya.
Tagore visited Japan numerous times — and the Kodokan, the global judo HQ, in Tokyo, in 1929 — and his interest in judo was possibly an extension of his infatuation with Japanese culture. (It is said that he celebrated Japan's victory in the Russo-Japanese War in 1905 by lighting bonfires around his home. His fondness for the country and its people, though, faded as Japan's imperialistic designs on Asia and the world became increasingly clear.)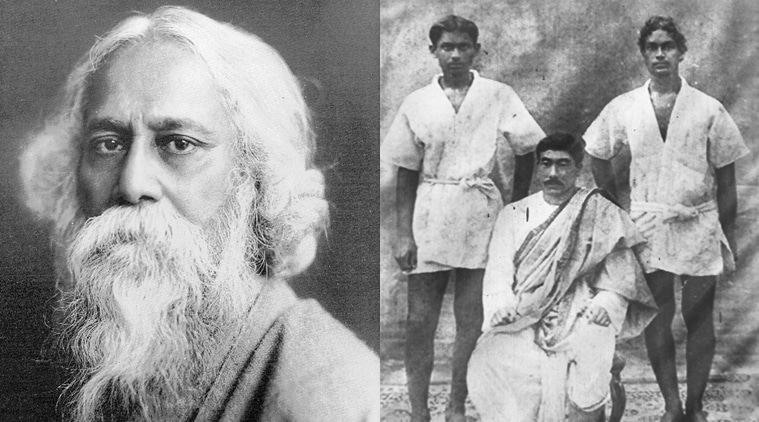 Rabindranath Tagore (L) was a great admirer of Jigoro Kano, the founder of judo, a 1905 photo of Japanese jiu-jitsu teacher Sanosan (seated) with Tagore's son, Rothindranath (standing, right) and Santosh Chandra Majumdar.
While Tagore was a pacifist and ambivalent about nationalism — a dangerous position to take in today's times — judo fitted right in, at least during its initial years, in Bengal at the turn of the last century.
The early 1900s were incendiary times in Bengal, when nationalism acquired a muscular profile. The British, who were masters at cultural emasculation, had for long stereotyped the Bengali male as "effete". Thomas Macaulay wrote that: "Whatever the Bengali does, he does languidly. His favourite pursuits are sedentary. He shrinks from bodily exertion; and though voluble in dispute… he seldom engages in personal conflict, and scarcely ever enlists as a soldier. There never perhaps existed a people so thoroughly fitted by habit to a foreign yoke."
Exhorted by the likes of Swami Vivekananda and Aurobindo Ghose, the men of Bengal plunged into physical culture, and so strong was the interest in bodybuilding that when the Prussian Eugen Sandow, the man who invented modern bodybuilding, visited Calcutta in 1904, he was afforded a rockstar's reception at Howrah Station.
"Many of these new physical culturists allied themselves with revolutionary movements. Some joined gymnasiums and akharas, which served as a front for the extremist activities of organisations such as the Anushilan Samiti (literally, society for education of all faculties) and Jugantar, while others gravitated towards academies that taught martial arts indigenous to Bengal," says Abhijit Gupta, who teaches English at Jadavpur University, Kolkata, and is researching physical culture in colonial Bengal. One of these martial arts institutes was set up by Tagore's niece, Sarala Devi Chaudhurani, and it wasn't long before jiu-jitsu/judo caught the eye of the revolutionaries.
"Pulin Behari Das, who founded the revolutionary Dhaka Anushilan Samiti, secretly learnt jiu-jitsu techniques from Sano. Sano was a practitioner of a koryu budo form, and the photographs and illustrations we've seen of Das's techniques bear remarkable similarity to techniques practised in modern day jiu-jitsu derivatives such as aikido. Das, who was a great stick-fighter and swordsman, synthesised Sano's jiu-jitsu with various indigenous martial arts he had learned, and called it 'Bharatiya jiu-jitsu,'" says Deeptanil Ray, a researcher at Jadavpur University's School of Cultural Texts and Records. Ray co-edited the recently released Astracharcha, a compilation of Das's writings and lifelong research on martial arts, including free-hand self-defence (jiu-jitsu).
Despite Tagore's best efforts and repeated reminders to the Calcutta Municipal Corporation and its then mayors, including Subash Chandra Bose, to help him popularise the martial art among the youth, judo never attained the popularity bodybuilding did in the early decades of the 20th century in Bengal. But the tumult of those years did leave behind a legacy and birthed several men, who were the very antithesis of Macaulay's view of the Bengali man. Many of India's judo champs after Independence were from Bengal, and two of the country's first Mr Universes, Monotosh Roy and Manohar Aich, who passed away recently, were both "low-lying people from a low-lying land with the intellect of a Greek and the grit of a rabbit."
Source: http://indianexpress.com/article/lifestyle/life-style/the-nippon-shio-of-rabindranath-tagore/