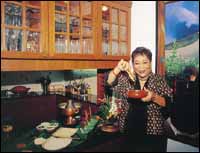 By Vishwas Kulkarni
Vintage society diva Barota Malhoutra, 75, married her college sweetheart Saroj Sharma, 77, fifty years after they parted ways. A soiree earlier this week saw friends bless the couple and celebrate the maxim "it's never too late".
It was a union that brought together most of Mumbai's vintage glitterati, from society columnist Shobhaa De to yesteryear screen goddess Waheeda Rehman. And there was indeed much cause to celebrate. ' 80s it-socialite Barota Malhoutra, 75, was celebrating her marriage to Saroj Sharma, 77. They were once college sweethearts inanother time, another place: New Delhi, in 1956, where she was a student at Miranda House, and he was a young strapping lad at St Stephens.
"I was her roommate," said the wife of a veteran filmmaker, who did not wish to be named. "Miranda House girls and St Stephens boys – it was a thing. Miranda girls and Stephens boys historically hung out with each other, dated each other. Saroj had a thing for Barota, and vice-versa. They parted ways at some point. Both graduated," she said. He got married, got divorced, and later took up a job in Papua New Guinea with an oil firm. Barota got married to the late Jayant Malhoutra, former BSP-backed Rajya Sabha MP and rather famous for having had erstwhile PM Narsimha Rao's ears during post-liberalisation India's crucial years. Jayant Malhoutra struck gold during Partition, according to a report in India Today. During the Emergency, as legend goes, he helped R K Hegde evade the slammer. And thus began an unlikely career for the industrialist. Regardless, Jayant and Barota Malhoutra lit up many a socialite evening in the dazzling '80s from their Usha Kiran pad in Altamount Road, until his death.
"It was a chance meeting three years ago in charming Calcutta that brought spring back into their lives. Barota met a common friend – who was in touch with Saroj at the time – and he thought of introducing them. He called Saroj, who was in Papua New Guinea. Saroj picked up the phone, heard her voice, and told her, 'Can you just give me 18 hours? That's how long it will take me to get to Calcutta to see you.' If there is a fairytale romance, this is it," said Shobhaa De, who was present at the party and was kind enough to share photographs from it.
"He (Saroj) is affectionately called 'The Walrus' by Barota's close friends, thanks to his moustache. And the entire event was all about the beauty of serendipity, of two people meeting, of life's second chances. In fact, when Saroj picked up the guitar and sang Elvis Priestley's "Now or Never", almost everyone in the room had tears in their eyes," said De.
In fact, so besotted was Saroj of Barota that despite the 52 years they had spent away from each other, he still held onto a poster of a "Miss Miranda" pageant at which Barota had been crowned queen. "She was always a wild child, a free spirit. To men of a certain vintage, she was very attractive, because she was always her own person. She made friends easily."
Yet Saroj remains old-fashioned. "He was insistent that they have a proper ceremony, even though Barota would have been happier with something more informal," said a common friend. So they formalised their union at a Buddhist ceremony in Bangalore, after which they hosted the Monday evening soiree.
When Mumbai Mirror called Ms Malhoutra, she said, "The one takeaway from this is that 'Things do happen'. What are the odds of two people, who were once extremely fond of one another but parted ways, meeting each other after 52 years, based on the fact that I was lucky enough to be in a hotel lobby on a certain day in Calcutta, to be spotted by a common friend of ours on that day? There is much to take away from this chance encounter. But aside from that, we would really like to have our privacy."
Source: http://www.mumbaimirror.com/mumbai/others/In-the-Mood-For-Love/articleshow/52998939.cms